ARTICLES
What Hard Rock guitarists from the 70's look like nowadays
Long hair, bell-bottom pants and beards/mustaches. The members of the hard rock bands of the 70s had these characteristics. It was the beginning of this powerful rock and roll subgenre. Many guitarists that became famous at that time are still active today. However, their look has changed a lot.
How Hard Rock guitarists from the 70's look like nowadays
Jimmy Page (Led Zeppelin)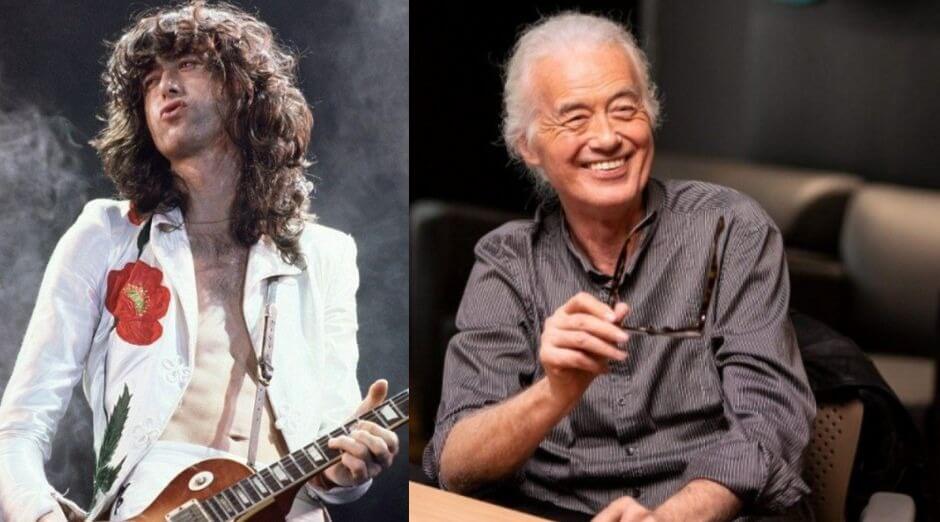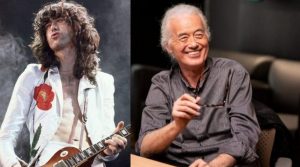 The legendary Led Zeppelin guitarist Jimmy Page was born in Heston, January 9, 1944. He began his career as a studio musician in London and, in the mid-1960s, became one of the most respected session guitarists in England. He was a member of the Yardbirds from 1966 until 1968, and later founded Led Zeppelin in 1968.
Since Led Zeppelin end after John Bonham's death Jimmy Page had some projects like The Firm, Coverdale-Page, tour with Robert Plant in the 90's and partnership with The Black Crowes.
Scott Gorham (Thin Lizzy)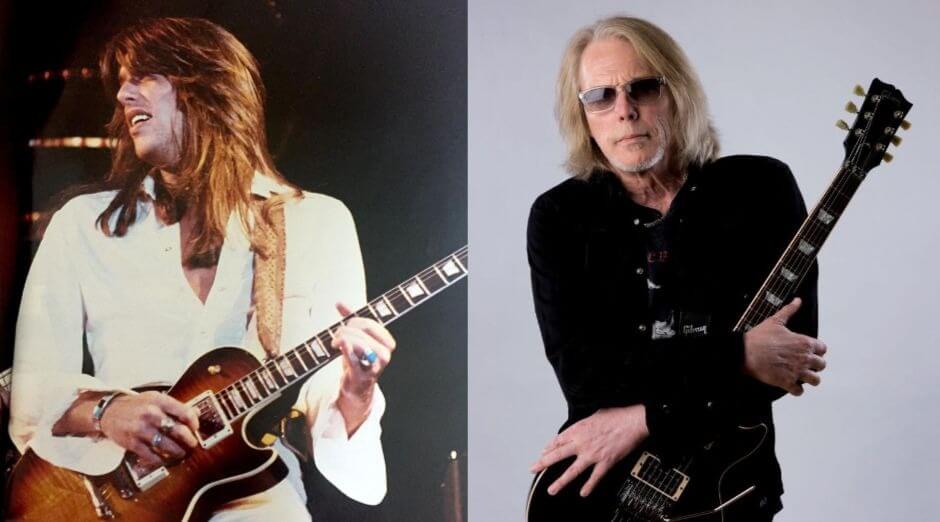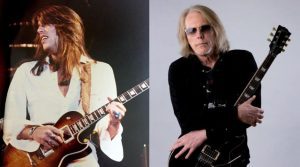 The guitarist Scott Gorham was born March 17, 1951 in Glandale, California but became known as one of the "twin guitars" of the Irish rock band Thin Lizzy. Although not a founding member of the band, he is best known for his continued participation after passing a test and joining the band for a while when they were on hiatus after guitarist Eric Bell left. Gorham remained in the band between 1974 until the end in 1984. He and guitarist Brian Robertson, both hired at the same time, marked the beginning of the band's most critical period of success, and together they developed they were known as the "twin guitarists" of the band.
Gorham continues to tour and release new music with his band Black Star Riders. They sound is very similar to Thin Lizzy.
Michael Schenker (Scorpions, UFO, MSG)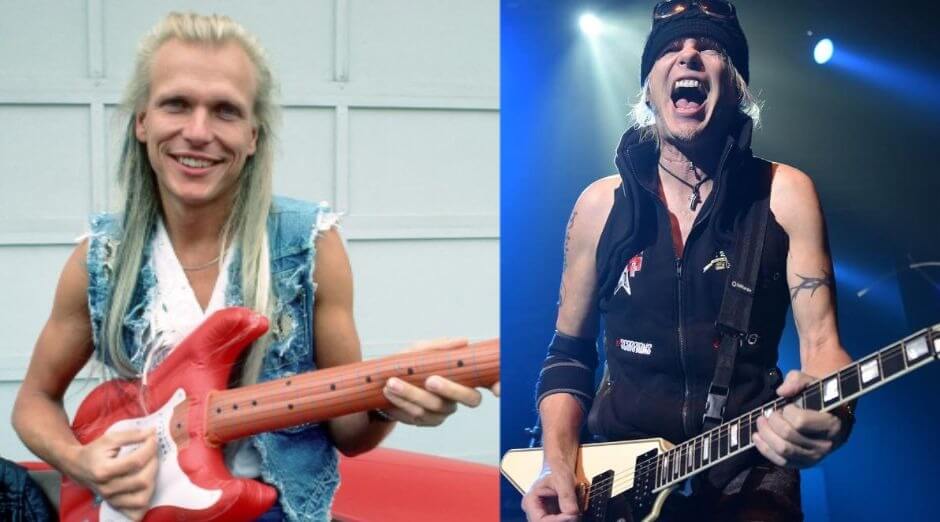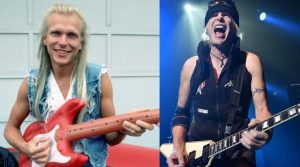 German guitarist Michael Schenker is the younger brother of Scorpions' guitarist Rudolf Schenker. They played together on the band in some albums but after many discussions, Michael left and joined UFO, English band where he released many successful albums. He was born in Sarstedt, Germany, January 10, 1955 and has virtuous and melodic style on guitar. He contributed to the evolution of heavy metal and hard rock, being considered one of the best guitarists of all time. The musician continues to tour and release new music on his solo career.
Rudolf Schenker (Scorpions)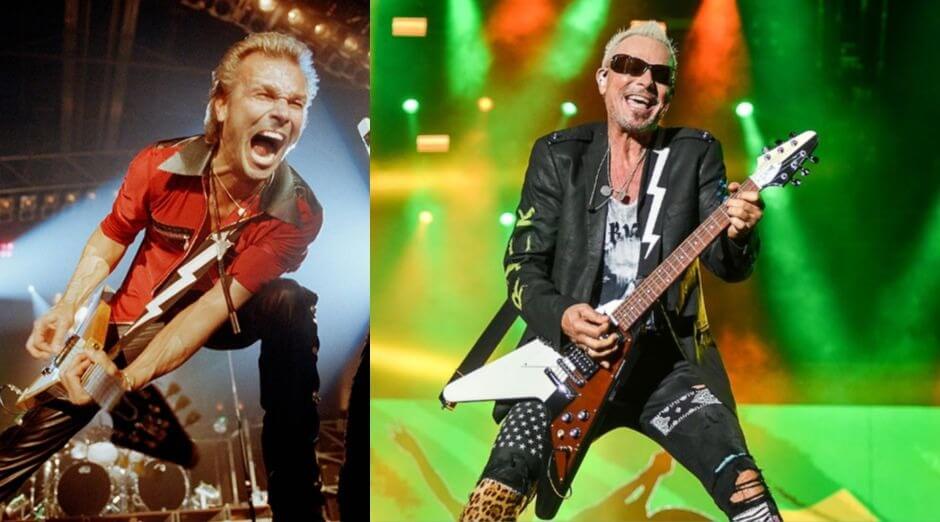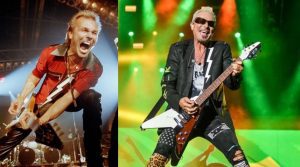 Rudolf was born in Hanover, August 31, 1948. He is one of the pillars of Scorpions and responsible for most of the band's melodies. The musician founded the band in 1965 together with his younger brother, solo guitarist Michael Schenker, who was only 10 years old at the time, but already was a great guitar player. Michael, aged 16, was on the band's first album (Lonesome Crow). He continues to tour and record with Scorpions.
Tom Scholz (Boston)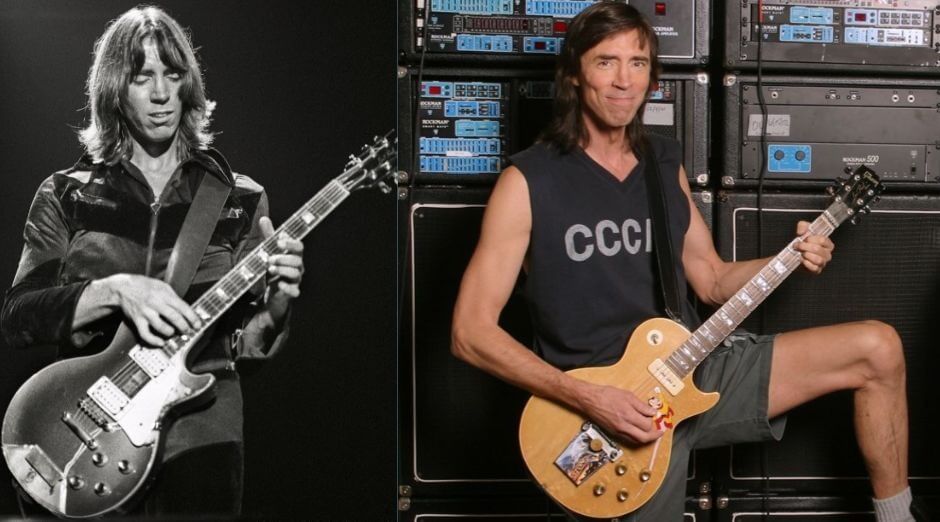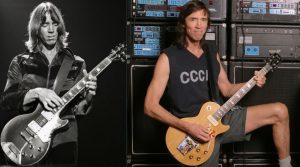 Tom Scholz was born March 10, 1947  and is the founder of famous classic rock band Boston. He came into the recording industry in an unusual way; as an MIT-trained engineer interested in music. He had designed his own recording studio in an apartment building basement to record his own music.
The first Boston album was mostly recorded in this basement studio, often using devices he designed and invented himself. After the initial success of the band, he founded Scholz Research & Development, Inc. to develop and market his own inventions, many under the Rockman brand.
He also has been described by AllMusic as "a notoriously 'un-rock n' roll' figure who never enjoyed the limelight of being a performer," preferring to concentrate almost exclusively on music, production, and inventing new electronic equipment. In more recent years, he has spent much of his money and time working on charitable work.
Joe Perry (Aerosmith)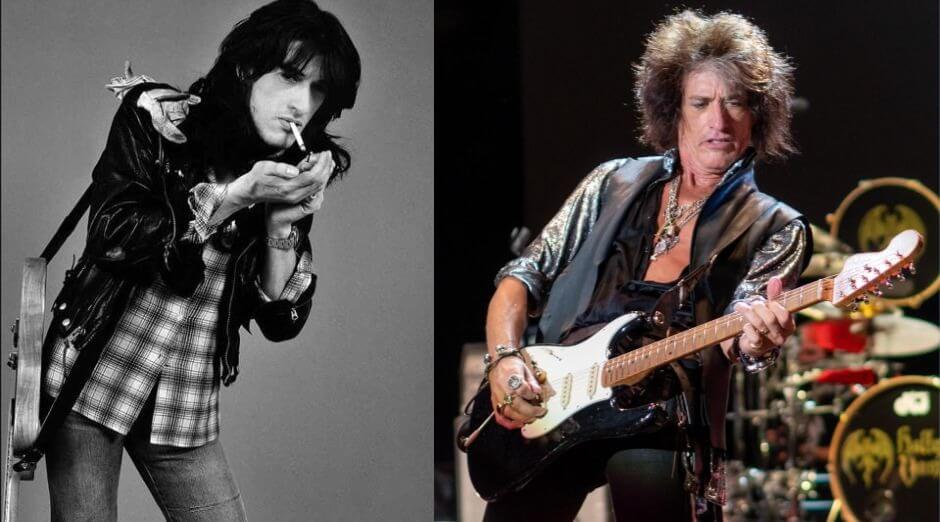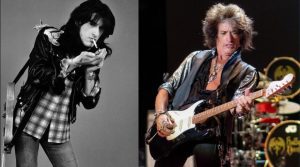 Joe Perry was born in Lawrence, September 10, 1950. He is Aerosmith's lead guitarist and was considered the 84th best guitarist of all time by Rolling Stone. He continues to tour and record with Aerosmith and the supergroup Hollywood Vampires. The musician also recently released a solo album.
Manny Charlton (Nazareth)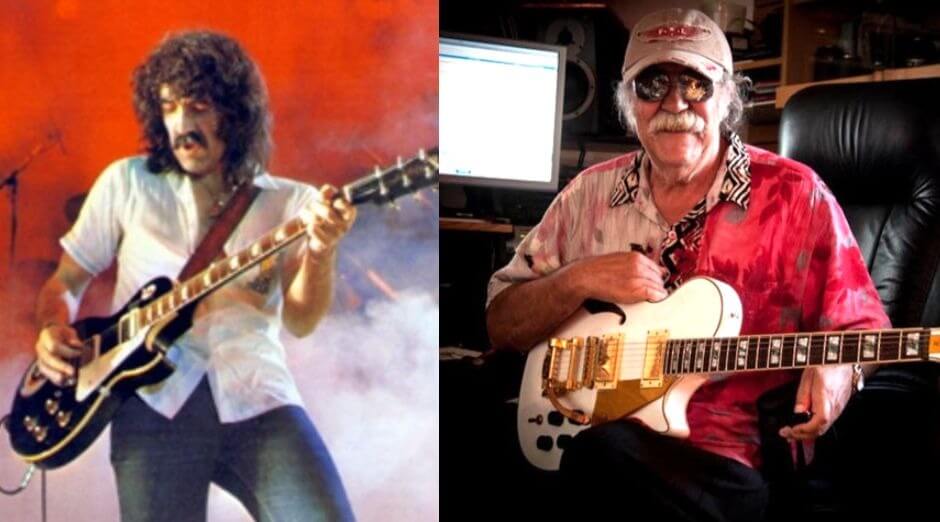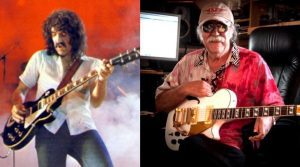 Manuel Charlton, better known as Manny Charlton was born in La Línea, July 25, 1947. He is a Spanish guitarist and founding member of the Scottish hard rock band Nazareth. he was on the band from 1968 to 1990. He is considered one of the most important guitarists and rock composers
In 1990 Manny announced his departure from the band, playing some solo shows on the Scottish club circuit, released his first solo album Drool in 1997, on the Red Steel label with Neil Miller on vocals. The following year, he moved to Texas, where he formed the Manny Charlton Band (MCB). The new band released a couple of albums – Stonkin and Klone This – before the break-up in 2003.
Ritchie Blackmore (Deep Purple)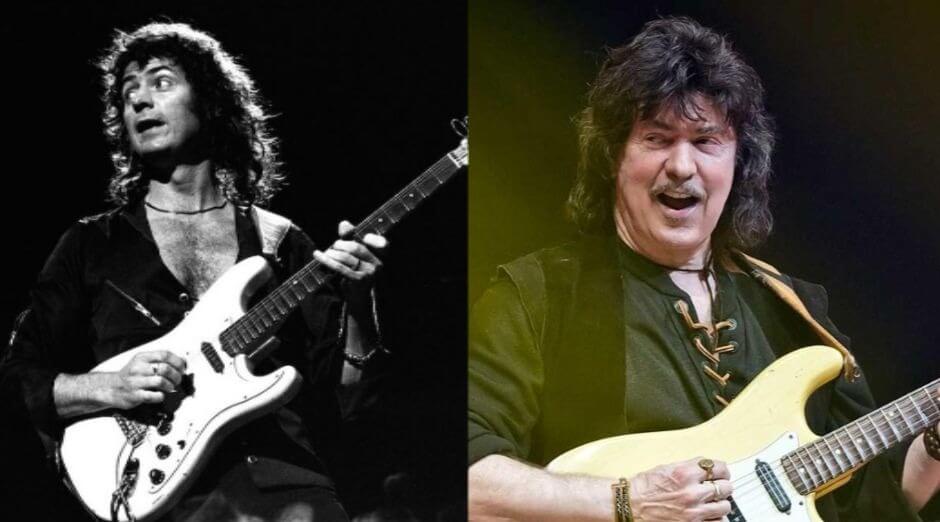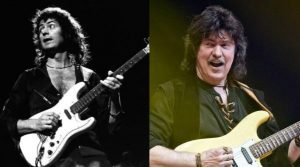 Considered one of the best guitarist of all time, Ritchie Blackmore was born in Weston-Super-Mare, April 14, 1945. Besides his amazing work with Deep Purple, the musician also formed Rainbow, that became another important Classic Rock band for their amazing albums and for the amazing musicians that were part of the group, like Ronnie James Dio, Cozy Powell and more. He was considered the 50th best guitarist of all time by Rolling Stone.
Ace Frehley (Kiss)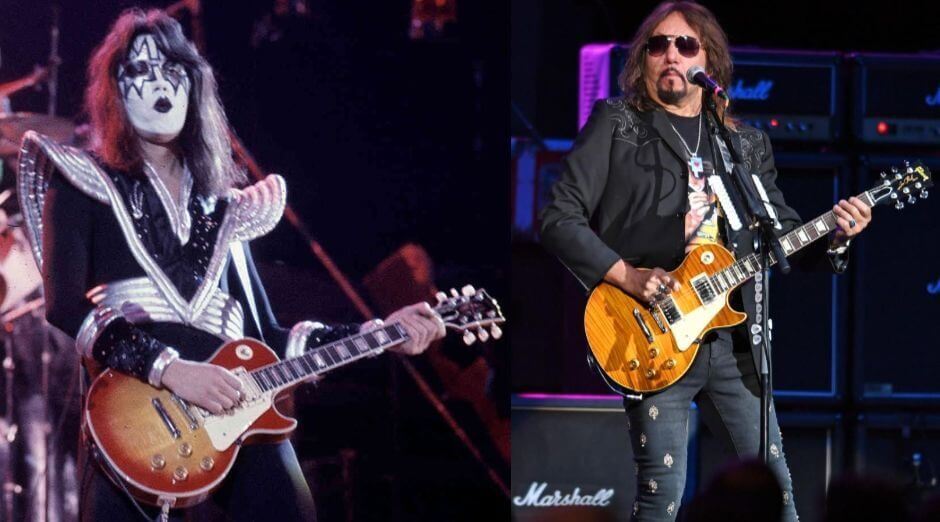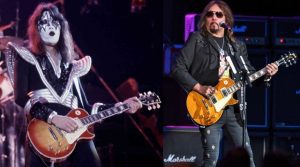 Kiss first and beloved guitarist, Ace Frehley was born in New York, April 27, 1951. He was on the band in their first  13 albums (studio and live), reuniting with them in 1996 for MTV Unplugged and Psycho Circus (1998). Being also with the band during their first farewell tour during the early 00's. He released many solo albums when he was not with Kiss and continues to tour.
Nancy Wilson (Heart)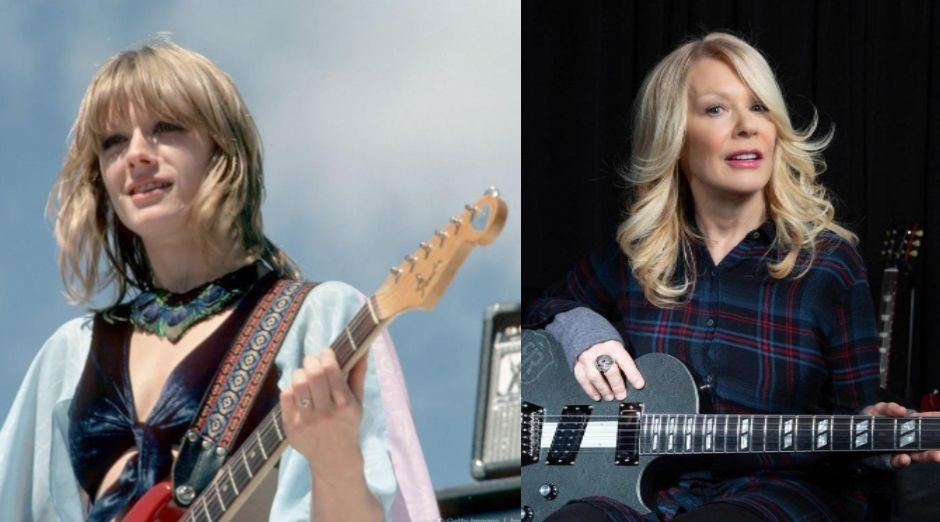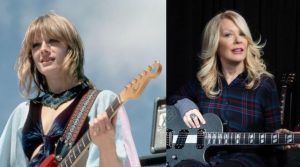 Nancy Wilson was born in San Francisco, March 16, 1954. She and her older sister, Ann, formed the band Heart in the 1970s. In April 2013, Nancy and the other members of Heart joined the Rock Hall of Fame. The sisters recently reunited the band.
Alex Lifeson (Rush)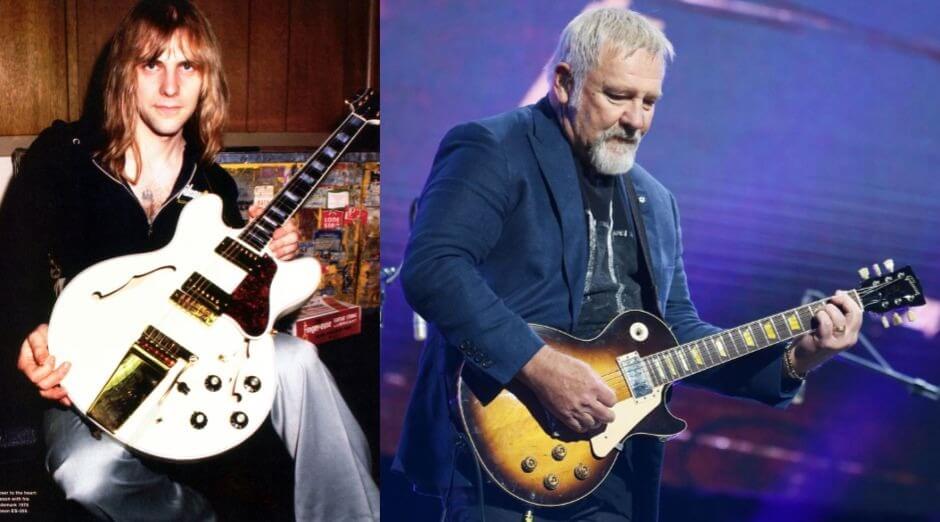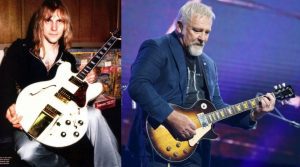 Aleksandar Živojinović, better known as Alex Lifeson was born in Fernie, August 27, 1953). According to him, "Živojinović" translates as "son of life", which gave rise to his stage name. Rush's guitarist is considered the scientist of the band, as he constantly seeks different sounds to express his musicality. Extremely versatile, Alex is competent in riffs, solos and textures, characterized by presenting a precise distribution over the times and a very elaborate rhythmic work.
Mick Box (Uriah Heep)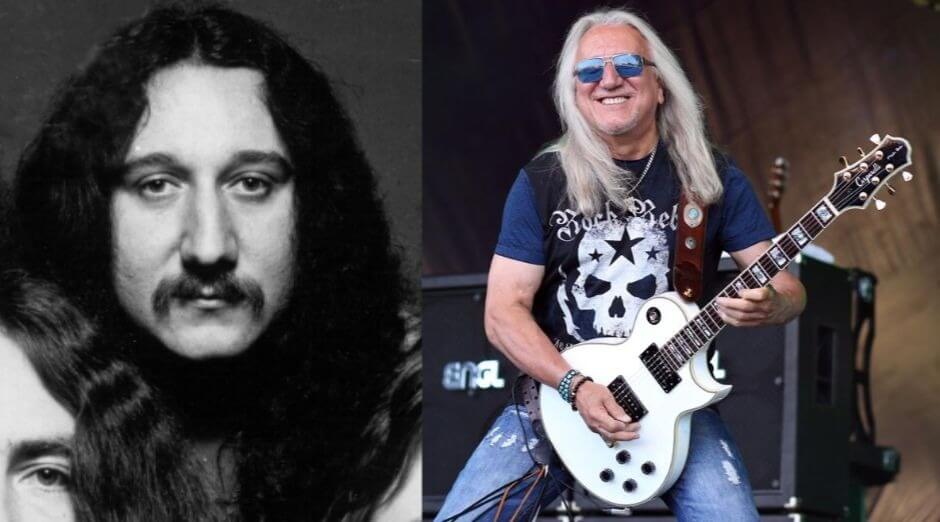 Michael Frederick "Mick" Box was born 9 June 1947, in Walthamstow, East London, England. Besides being Uriah Heep's guitarist, before the band he played with The Stalkers and Spice. That also had original Heep singer David Byron.
Over 51 years of existence, Uriah Heep released 24 albums. Twelve of the band's studio albums have made it to the UK Albums Chart (Return to Fantasy reached No. 7 in 1975) while of the fifteen Billboard 200 Uriah Heep albums Demons and Wizards was the most successful (#23, 1972). In the late 1970s the band had massive success in Germany. Where the "Lady in Black" single was a big hit. They have sold over 45 million albums worldwide with over 4 million sales in the U.S
Angus Young (AC/DC)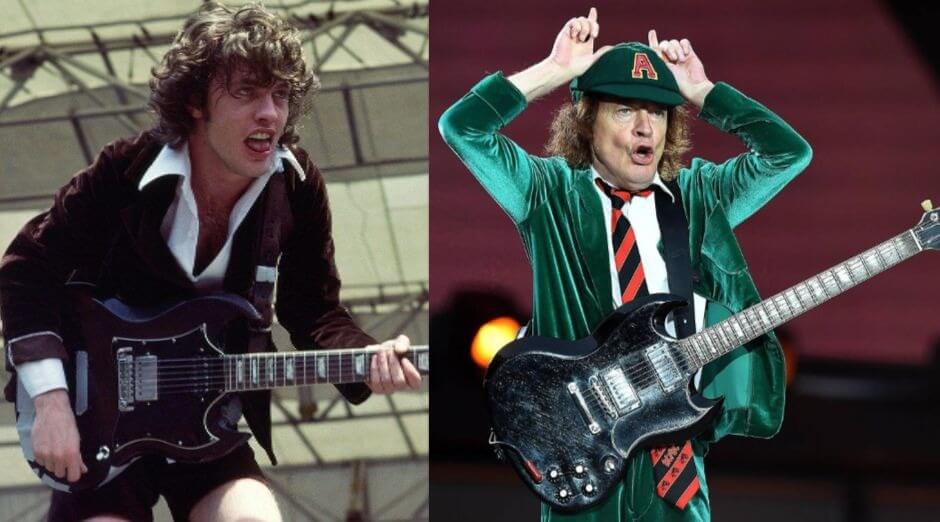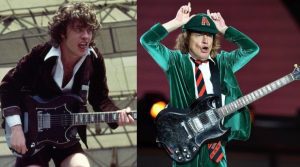 AC/DC's Angus Young was born in March 31, 1955, in Glasgow, Scotland. Despite being Scottish, he is naturalized Australian, having dual nationality. In 2003, he was introduced together with Malcolm Young, Brian Johnson and other members at the Rock and Roll Hall of Fame. He is known all over the world for his extremely energetic performance on stage during concerts, his traditional school uniform, which ended up becoming the band's symbol and for performing the popular 'Duckwalk', dance invented by the musical legend, Chuck Berry.
Eddie Van Halen (Van Halen)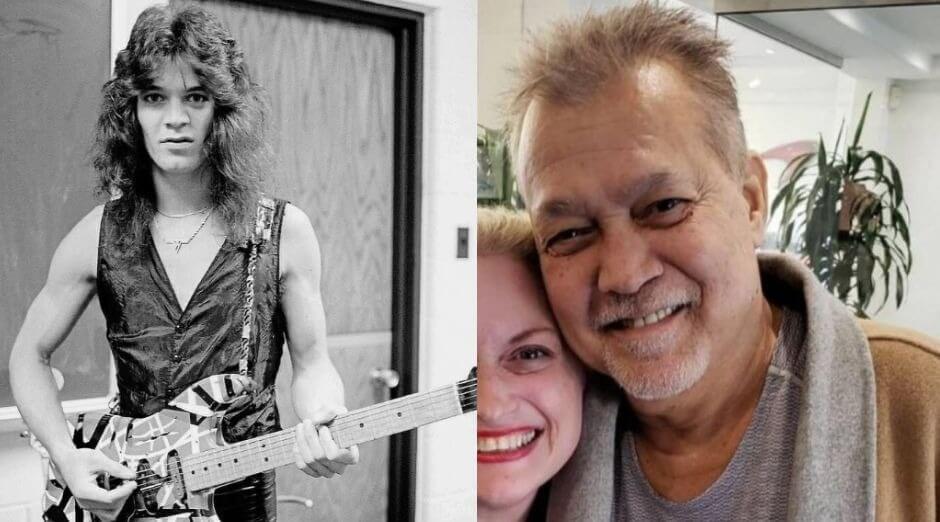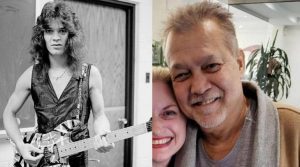 Van Halen's Eddie Van Halen was born in Nimegue, January 26, 1955. Early in his career, Eddie played the drums and the keyboard and Alex played the guitar and studied the keyboard. Over time Alex got better than Eddie on drums, and Eddie started to play the guitar, getting better than his brother on the instrument.
In addition, Eddie is one of the most acclaimed guitarists in history, receiving several honors and mentions from the most varied magazines specialized in the subject.
Ted Nugent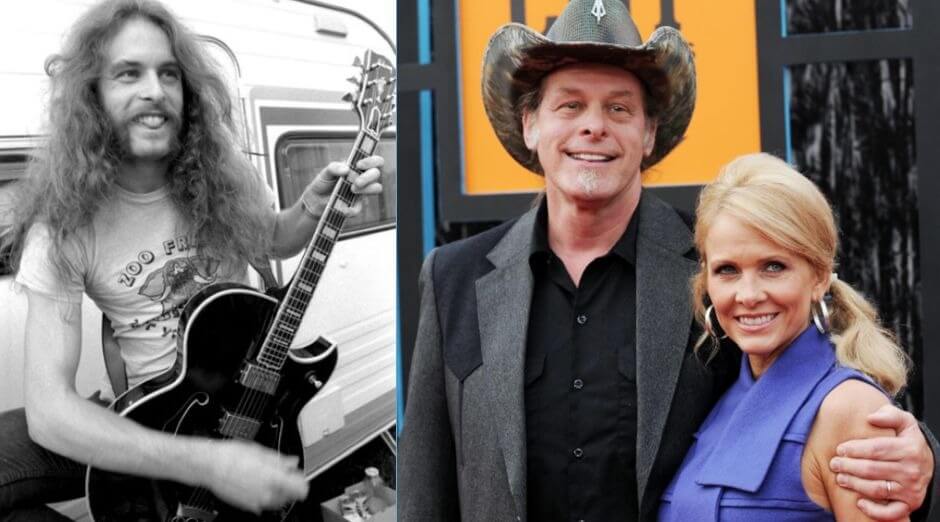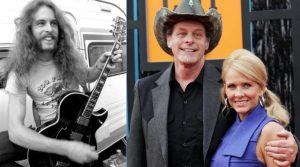 Ted Nugent was born in Detroit, December 13, 1948. He initially gained fame as a guitarist for the band The Amboy Dukes, a psychedelic rock and hard rock band, formed in 1963. After the Amboy Dukes, Ted Nugent embarked on a solo career in 1975. "Cat Scratch Fever" and "Stranglehold" are two of his best known songs in solo career. Between 1989 and 1996, Ted Nugent was also part of the band Damn Yankees.
Mark Farner (Grand Funk Railroad)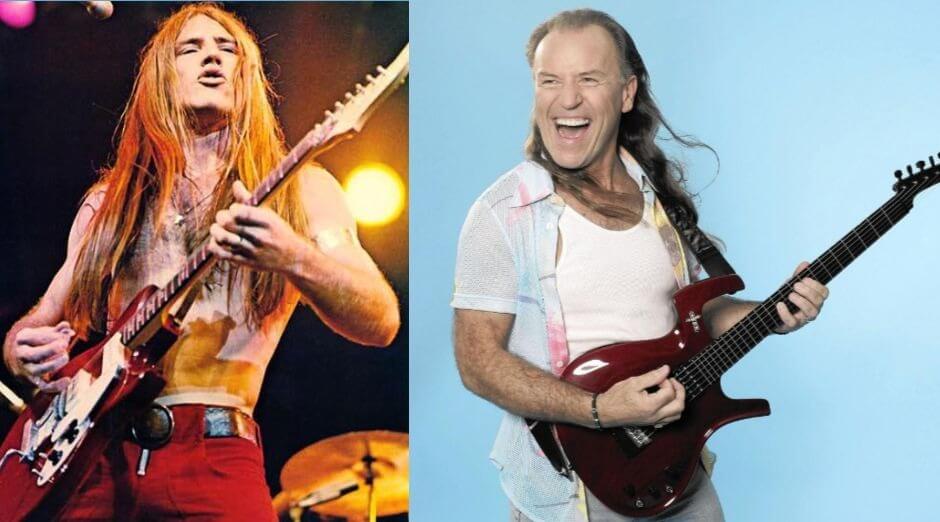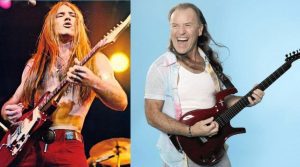 Grand Funk Railroad's singer and guitarist Mark Farner composed many of the band's hits like "Bad Time" and "I'm Your Captain (Closer to Home)". He continues to tour around the world with the same voice and still is an amazing guitar player.
Eric Bloom (Blue Öyster Cult)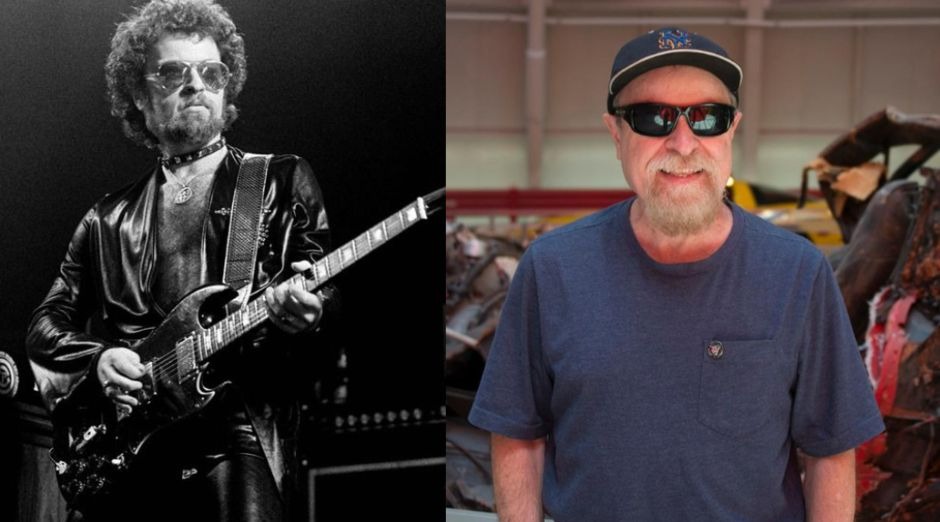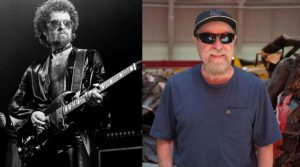 Eric Bloom was born December 1, 1944 and is Blue Öyster Cult's lead vocalist. He also plays guitar, keyboard and synthesizer. Much of his lyrical content relates to his lifelong interest in science fiction. He continues to tour with the band alongside his bandmate Buck Dharma.
Buck Dharma (Blue Öyster Cult)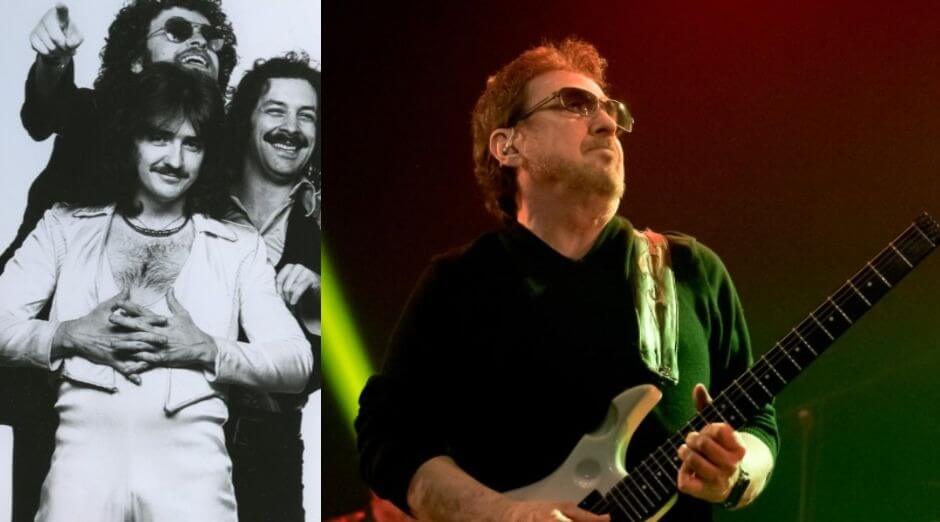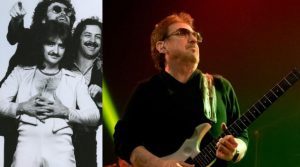 Eric Bloom's bandmate in Blue Öyster Cult, Buck Dharma is also guitarist and singer of the group. He was born November 12, 1947. He wrote and sang vocals on several of the band's best-known hits, including "(Don't Fear) The Reaper," "Godzilla" and "Burnin' for You."