Classic Rock
Watch Cheap Trick performing "Highway To Hell" in Malcolm Young's memory
The classic rocker's from Cheap Trick performed the AC/DC anthem "Highway To Hell" in the Capitol Theatre at Port Chester, NY. Check it out Robin Zander and Rick Nielsen rocking out!
Take a look:
Life and career
One of eight children of Scottish couple William and Margaret Young, Malcolm Mitchell Young was born in Glasgow on 6 January 1953. In 1963, he emigrated from Scotland to Australia, settling in Sydney with his parents, brothers George and Angus, and older sister Margaret. His older brother, Alex, remained in Scotland and later formed the London-based group Grapefruit. His oldest brother Stephen was the father of his future AC/DC replacement Stevie Young.
20 essential AC/DC songs to honor Malcolm Young's memory
The musician and songwriter was best known as a co-founder, rhythm guitarist, backing vocalist and songwriter for the hard rock band AC/DC. Except for a brief absence in 1988, he was with the band from its November 1973 beginning until retiring in 2014 for health reasons. Young and the other members of AC/DC were inducted into the Rock and Roll Hall of Fame in 2003.
Though his younger brother Angus is the more visible of the brothers, Malcolm was described as the driving force and the leader of the band. In 2014, he stated that despite his retirement from the band, AC/DC was determined to continue making music with his blessing.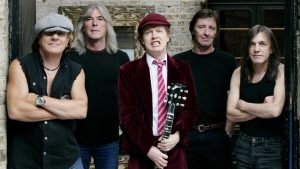 As the rhythm guitarist, he was responsible for the broad sweep of the band's sound, developing many of their guitar riffs and co-writing the band's material with Angus. He was married to Linda Young and had two children, Cara and Ross.
Young took a leave of absence from AC/DC in April 2014, to receive treatment for dementia. In September 2014, the band's management announced that he would be retiring permanently.