INTERVIEWS
Watch Chad Smith talking about Will Ferrel, Red Hot Chilli Peppers and cheating
Red Hot Chilli Peppers' drummer Chad Smith was on Jim Norton & Sam Roberts radio show. In the 20 minutes interview he talked about Will Ferrell, Red Hot Chili Peppers and Cheating.
Take a look:
Career
Widely regarded as one of rock music's best drummers, Spin magazine placed Smith at #10 on their list of the "100 Greatest Drummers of Alternative Music" in May 2013. Readers of UK-based Rhythm magazine ranked Smith and Red Hot Chili Pepper bassist Flea the fourth-greatest rhythm section of all time in their June 2013 issue.
The drummer is also known for his charity work especially with young musicians. He has been a lobbyist in support of music education in U.S. public schools.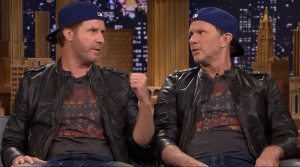 Smith is also widely known for the strong resemblance between himself and comedian Will Ferrell, which has led to various comparisons over the years and eventually led to a joking public feud and drum battle for charity on The Tonight Show Starring Jimmy Fallon.
Smith is also the host of the PBS concert series, Landmarks Live in Concert, which began in January 2017.
See more Interviews