Classic Rock
The Marshall Tucker Band announces 2018 tour dates
The Marshall Tucker band announced their Juke Jammin' 2018 tour. And the Southern rock legends said more dates will be added soon.
The tour begins in the sold-out Southern Rock Cruise from Jan. 20-25. Check it out below.
Marshall Tucker Band 2018 U.S. Tour Dates
Jan. 20-25 – Tampa, FL, The Southern Rock Cruise
Feb. 16 – Raleigh, NC, The Ritz
Feb. 17 – Charlotte, NC, The Fillmore
Feb. 23 – Verona, NY, Turning Stone Resort Casino
Feb. 24 – Wilmington, DE, The Queen
March 1 – Lexington, KY, Manchester Music Hall
March 2 – Rosemont, IL, Joe's Live
March 3 – Shipshewana, IN, Blue Gate Theatre
March 4 – Akron, OH, The Tangier
March 9 – St. Augustine, FL, St. Augustine Amphitheatre*
March 17 – Beverly, MA, The Cabot Theater
March 23 – Newberry, SC, Newberry Opera House
April 13 – Wendover, NV, Peppermill Concert Hall
April 15 – Santa Clarita, CA, The Canyon
April 16 – El Cajon, CA, Sycuan Casino
April 26 – Augusta, GA, The Miller Theatre
May 11 – Newkirk, OH, Country Bluff Events Center
June 22 – Manhattan, KS, Tuttle Creek State Park
June 30 – Stratton, VT, Stratton Mountain Resort
July 19 – Belmont, OH, Jamboree in the Hills*
July 28 – Kettering, OH, Fraze Pavilion for the Performing Arts*
*Southern Uprising Tour
lead singer Doug Gray talked about the tour:
"As we continue our journey down the road, I just look back and marvel. It doesn't seem like so long ago that we were just a bunch of kids playing music to make beer money for the weekend. We're looking forward to seeing our friends, old and new, on next year's 'Juke Jammin' tour. As always, get ready to party!"
The band
The Marshall Tucker Band is an American Southern rock/country rock band originally from Spartanburg, South Carolina. The band's blend of rock, rhythm and blues, jazz, country, and gospel helped establish the Southern rock genre in the early 1970s.
While the band had reached the height of its commercial success by the end of the decade, the band has recorded and performed continuously under various lineups for 45 years.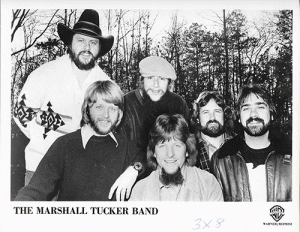 The original lineup of the Marshall Tucker Band, formed in 1972, included lead guitarist, vocalist, and primary songwriter Toy Caldwell (1947–1993), lead vocalist Doug Gray (born 1948), keyboard player, saxophone player, and flautist Jerry Eubanks (born 1950), rhythm guitarist George McCorkle (1947–2007), drummer Paul Riddle (born 1953), and bassist Tommy Caldwell (1949–1980). They signed with Capricorn Records and in 1973 released their first LP, The Marshall Tucker Band.
After Tommy Caldwell was killed in an automobile accident in 1980, he was replaced by bassist Franklin Wilkie. Most of the original band members had left by the mid-1980s to pursue other projects. The band's current lineup consists of Gray on vocals, keyboard player, saxophonist and flautist Marcus James Henderson, guitarists Chris Hicks and Rick Willis, bassist Tony Black and drummer B.B. Borden.