Classic Rock
Woodstock 50 postpone tickets sale and fans are worried it might be canceled
The Woodstock 50, scheduled to be held between August 16 and 18 to commemorate half a century of the legendary festival, has postponed the tickets sale, which would begin on Monday, April 22.
Neither the reasons for the postponement, nor the new dates for ticket sales were revealed, began to appear rumors that the festival, which will feature artists such as Jay-Z, Miley Cyrus, Chance the Rapper, Robert Plant, Santana and Imagine Dragons, may be canceled.
"No one knows what the hell is going on, but there's clearly a problem. There's probably something going on with investors or the venue reserved for the festival," a source told Billboard.
See the complete line-up below: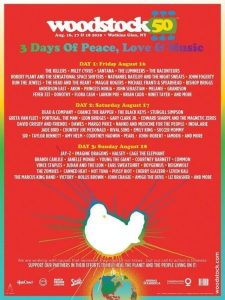 Recently The Black Keys canceled their presentation on the Festival as said on Woodstock 50 website:
"Because of unforeseen scheduling conflicts, we regrettably share that The Black Keys will no longer be available to perform at Woodstock 50 this summer."
"Due to a scheduling conflict, The Black Keys will unfortunately need to cancel their set at Woodstock. The band wants to let fans know as soon as possible and before tickets go on sale." -The Black Keys
"We have so much appreciation for their artistry, and look forward to seeing what's in store for them this summer."
"Woodstock 50 has an amazing lineup of artists that will steward our mission of peace, love and music, and we welcome everyone to join us. Tickets go on sale on Earth Day, April 22nd."
See more News