Classic Rock
U2 says that new tour will use augmented reality technology
Whoever tracks U2's work closely is probably already familiar with the group's dedication to the design of their tours.
Since the 1980s, Bono Vox's band has been keen to provide a unique experience for their fans by integrating cutting-edge technology into their performances and on stage – and their next tour will be no different.
As U2BR website points out, Willie Williams, U2's creative director, confirmed to Rolling Stone that the eXPERIENCE + iNNOCENCE Tour will use elements of Augmented Reality on stage.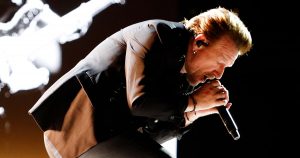 The technology
Augmented Reality is a technology that allows interaction between the real and the virtual world, and lately has been gaining space in areas such as architecture, engineering, medicine and entertainment.
Depending on the scope of the techniques used, this may be something previously unheard of in music presentations. But it seems that the details will only be revealed at the very premiere of the tour, which takes place on May 2 in the United States.
In addition to the changes on the stage, the band is also promising to perform longer shows and play "some rarities for the first time live."