Classic Rock
Sharon Osbourne reveals who owns the name Black Sabbath
Sharon Osbourne revealed who owns the name Black Sabbath during a conversation with Jackass' Steve-O on his podcast Wild Ride. Ozzy's wife also talked about the beginning of her husband's solo career after he was fired from the band.
Sharon Osbourne said about who owns the name Black Sabbath:
Again, to be kicked out of Black Sabbath, and then go on to have this solo career, which utterly eclipses anything that Sabbath ever did, and then after that all these years later, the Black Sabbath reunion… I got to guess, you being the shrewd business mind behind the Ozzy empire. When Black Sabbath gets to be reunited with Ozzy, now it's gonna be on your terms. Is that about right?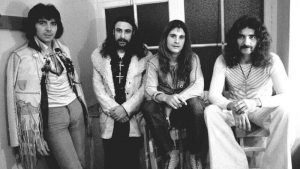 "It's about right, but Ozzy and Tony own the name. Geezer (Butler) and Bill (Ward) don't. It's Ozzy and Tony that own the name, and they are partners in Black Sabbath. So you're kind of right, Ozzy and Tony are equal. And at the time, the other guys, you know, it's kind of like pay-for-play," Sharon Osbourne said.
This is a somewhat similar situation but with Motley Crue. There's Vince Neil's version that he got kicked out. While the others say he left. But ultimately, Vince came back to Motley as an employee, is that right?
"No, but I know that they are kind of each on different deals. I know that, but I don't know what any of the deals are."
Steve-O asked her if she knew any other musician that was so successful on solo career as Ozzy was:
"I don't think so; the nearest one that I can think of is Sting. It's just – especially in this genre – the band that they were in their genre, it was just never done, the singer would always just go into isolation."
It's just so fascinating with Black Sabbath, it was actually your father [Don Arden] who managed Black Sabbath, that's correct? When Black Sabbath kicked Ozzy out, you guys were not already together at that point?
"No, we were just friends. My main friend in the band was Tony [Iommi, guitar]. He was like, you know, we would keep in touch over the years. If he was in town he'd say, 'Do you want to come to the show? I'll leave you some tickets.'
"It was one of those things; we weren't like buddies speaking every week, but we would stay in touch loosely, and that was it. I was the tour manager while I was on the road with Electric Light Orchestra, and I was mainly their tour manager," Sharon Osbourne said.
When there were meetings for Ozzy to get a record deal for his solo career, going into these meetings I heard a story that you directed Ozzy to walk in with alive dove in one hand and a dead dove in the other, and that he would go into the board room and bite off the head of the dead dove and spit it on the table and release the live doves and then just turn around and walk out?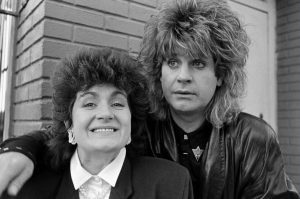 "You got bits of it right. The deal was he was to go in – because it was his first introduction to the record company, they'd never met him, so they were having all the staff come into the conference room."
"And he was going to walk in, and you got to remember, this was '80 or '81, nobody gave a shit about Ozzy. It was a cheap deal, they were doing him a favor putting the record out. They didn't know about this genre of music at all, they knew nothing about this music."
"And so he goes in there and all these people are like, you know, listening to 'Crazy Train,' they got no fucking idea what they're listening to, and we said, 'Take the doves, and let them go.' It was like a peace offering. Everybody would go, 'Oh, how gorgeous, that's lovely,' and we would walk out," Sharon Osbourne said.
She continued, saying:
"But Ozzy goes in, he's already drunk – and it's like 10 in the morning – he's got a dove in each pocket, he sits on this girl's lap, who he has no idea who she was. So he sits on her lap, he goes, 'The vibe in the room is very strange,' and looks at everybody, they look at him, and he takes the dove out and he just rips the head off and spits it on the girl's lap, that was it – game over."
"He then gets the other one and lets the other one free in the room, so it's flying and shitting in the room. And then we got ushered out by security, and that was it. The deal was done. It was, 'OK, this is Ozzy, you've just signed him.' It was like a meet-n-greet, and so it was just like, 'Hi,' and that was it. I got back to the office, I got a call from legal; they said, 'If you ever do this again, we won't release the album and we'll literally destroy you.' And we're like, 'OK, thanks,'" Sharon Osbourne said.
Related Topics:
bill ward, black sabbath, CLASSIC ROCK, Featured, geezer butler, hard rock, heavy metal, interviews, news, ozzy osbourne, sharon osbourne, tony iommi
Rafael Polcaro
I'm a Brazilian journalist who always loved Classic Rock and Heavy Metal music. That passion inspired me to create Rock and Roll Garage over 6 years ago. Music has always been a part of my life, helping me through tough times and being a support to celebrate the good ones. When I became a journalist, I knew I wanted to write about my passions. After graduating in journalism from the Pontifical Catholic University of Minas Gerais, I pursued a postgraduate degree in digital communication at the same institution. The studies and experience in the field helped me improve the website and always bring the best of classic rock to the world! MTB: 0021377/MG