The drummer and one of Mr. Big's founding members, Pat Torpey, died last Wednesday, February 7, at age 64 due to complications of Parkinson's.
Read what bassist Billy Sheehan said:
"Pat has been my closest friend for the past 30 years. He was one of the best human beings I had the privilege of knowing and the honor of working. We all of Mr. Big had nothing but the highest respect and admiration for him. He is loved by all and certainly one of the best rock drummers the world has ever known."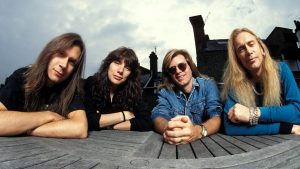 Former Mr. Big guitarist Richie Kotzen also talked about Pat:
"So sad to hear of my friend and former bandmate's passing. We spent years visiting the world, making music, family vacations. Pat's sense of humor, intelligence, and smile lit up anywhere he went.
I'm grateful to have you as an incredibly important friend and influence in my life. Your lack will be felt beyond words. With love and tears, rest in peace, my friend "
Pat played drums on Mr. Big until 2014, when due to Parkinson's, he started playing percussion and backing vocals.
See more News