Classic Rock
Midnight Oil announces new album and farewell tour
The legendary Australian band Midnight Oil announced the new album "Resist", their final tour and released "Rising Seas", the first single of the new record. They returned in 2017 after a long hiatus and toured around the world, also releasing the record "The Makarrata Project". The group's longtime basist Bones Hillman unfortunately died at the age of 62 in 2020.
Midnight Oil announced new album, farewell tour and first single saying:
"Today Midnight Oil announced that this chapter of their career will come to a memorable close next year with the release of the other 12 new songs they recorded with Bones and a series of big gigs. Both are aptly titled Resist."
"The band also announced that this will be their final concert tour while making it clear that this does not mean the end of the Oils. Each of the members will continue their own projects over the years ahead. They remain very open to recording new music together in future and supporting causes in which they believe but this will be their last tour."
"Meanwhile Resist will be a fitting, forward looking, statement for a band whose clarion call has always been "it's better to die on your feet than live on your knees". The tour will see them performing classic Midnight Oil songs from across their repertoire while also showcasing some urgent new works. As the title makes abundantly clear, Resist engages with the issues of today and tomorrow – like the lead single "Rising Seas" which tackles the climate crisis in typically uncompromising fashion."
They continued: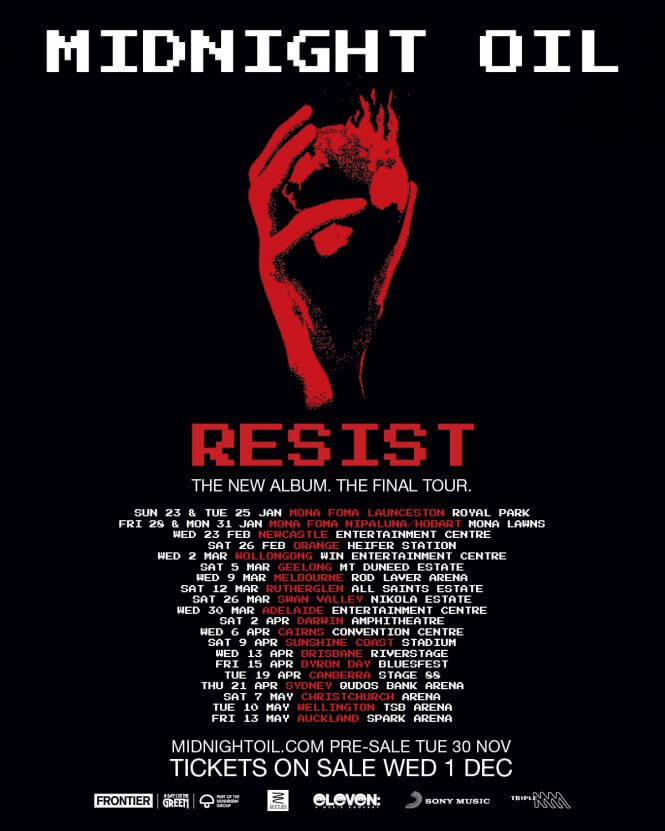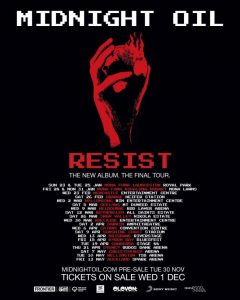 "The album pre-order and Australasian tickets will go on-sale from next Tuesday 30 November. Dates, venues and all other info is listed at midnightoil.com/tour. A handful of international concerts is also being considered (subject to Covid restrictions)."
"Rob Hirst says: "If I look back, I see a blur of familiar names and faces: Jim, Pete, Martin, Bear and me, slamming loud prog-pop in a Chatswood garage; Giffo, magnificent, rocking back and forth at his first Royal Antler gig; Bonesy, headphones on, singing, lounging on the deck learning our catalogue."
"I see our managers in their offices – Gary, Zev and John; our tour managers in their cars and buses – Constance, Neil, and Willie Mac; our producers in their studios, Keith, Lez, Glyn, Nick and Warne; and our crew on countless stages, Michael, Oysters, Ozzy, Doc, Nick, Jock, Gerry – and so many more."
Midnight Oil continued:
"I see our folks-in-the-engine-room that the outside world has never seen: Stephanie, Wayne, Diana, Arlene, Jonesy, Craig, Geoff H, Chris P, Peter T, and Mel C."
"I see our wives and trusted friends, and the tiny faces of the 'Baby Oils', watching us from side of stage, from Sydney to Sao Paulo to Saskatoon."
"But mostly, blinded by stage lights, I see the first two rows of a thousand gigs: Midnight Oil fans, pumping, jumping, singing louder than the band. But I don't look back."
The album
Resist will be Midnight Oil's 15th studio release since the band exploded out of the post-punk scene back in 1978, blazing a singular trail of blistering gigs through Australia's pubs and clubs. In the four decades since they have created an unparalleled string of classic tracks including "I Don't Wanna Be The One", "Power & The Passion", "US Forces", "Best Of Both Worlds", "The Dead Heart", "Blue Sky Mine", "Forgotten Years", "Truganini", "Redneck Wonderland", "Say Your Prayers" and the 2020 APRA song of the year "Gadigal Land (feat. Dan Sultan, Joel Davison, Kaleena Briggs & Bunna Lawrie)".
Their Diesel & Dust LP topped the critics' "100 Best Australian Albums Of All Time" and its worldwide hit "Beds Are Burning" is one of the "500 Songs That Shaped Rock'n'roll" according to the U.S. Rock'n'roll Hall Of Fame. The band's performance of that song at the Sydney Olympics is etched in the memory of billions.
"Resist" tracklist
Rising Seas
The Barka-Darling River
Tarkine
At the Time of Writing
Nobody's Child
To the Ends of the Earth
Reef
We Resist
Lost At Sea
Undercover
We Art Not Afraid
Last Frontier