Classic Rock
Liam Gallagher makes acoustic version of "Some Might Say" on London roof
After making the debut of his solo career with an excellent record, Liam Gallagher is on the road to promoting As You Were around the world.
The singer was in Europe performing a series of shows and giving interviews for television and radio programs.
Recently, Liam did an intimate performance on the roof of Radio X in London. There, he presented an acoustic version of the hit "Some Might Say", released by Oasis on 1995's "What's the Story" album.
Check it out:
CLASSIC ROCK
Liam Gallagher talks about meeting fans and his favorite Aussie bands
Oasis' singer Liam Gallagher talked with Liam Stapleton from Triple J about how it is to meet new fans everyday and also about his favorite Aussie bands.
Check it out:
New album
As You Were is Liam Gallagher's debut solo album. It was announced in June 2017 with the release of the single "Wall of Glass" and was released on 6 October 2017 by Warner Bros. Records.
Gallagher also revealed that he will launch his first solo tour of the United States and Canada to support the album's release. The album's title comes from the sign-off Gallagher typically uses for his Twitter posts.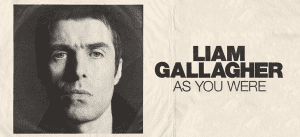 Gallagher worked with producers Greg Kurstin, Andrew Wyatt and Dan Grech-Marguerat on the album, with Kurstin producing the tracks "Wall of Glass", "Paper Crown", "Come Back to Me", and "Doesn't Have to Be That Way", Wyatt producing "Chinatown", and Grech-Marguerat producing the remaining tracks.
The album debuted at number one in the UK, outselling the rest of the top 10 of the UK Albums Chart combined. It also achieved the highest single-week vinyl sales in 20 years, with 16,000.
See more News