Classic Rock
Guns N' Roses will be headliner on Austin City Limits (See the line-up)
Guns N 'Roses will be one of the headliners of the Austin City Limits Music Festival, which will be held on two weekends in October (from 04 to 06 and from 11 to 13). The event will be held at Zilker Park, located in Austin, the capital of Texas.
In addition to Guns N 'Roses, names such as The Cure, Third Eye Blind, Tame Impala, and other attractions will take part in the event.
Since 2006, the ACL Festival, in partnership with the Austin Parks Foundation, has generated more than $ 35 million for improvements at Zilker Park and parks throughout the city. In the year 2018, through a percentage of ticket sales, ACL Fest fans contributed with $ 5.1 million.
This will be the first time that Guns N 'Roses will be attending the festival.
See the complete line-up below: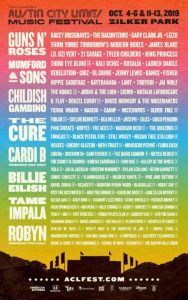 See more News